by Allison Phillips, M. Ed.
Masters in Kinesiology: Exercise Physiology
By focusing on three key areas --
1)
lower body power, 2) core & upper body strength, and 3) alignment and flexibility
-- runners can train their bodies to run "lighter"and more efficiently (i.e. faster!), reducing stress on the joints and low back and reducing the risk of injury and increasing running longevity.
So, here are
6 dynamic exercises for runners
, strategically sequenced into 2 mini-circuits, that will
improve overall strength and power, help correct muscular imbalances, and perfect running form and mechanics.
OVERVIEW:
Complete 6-20 reps of each exercise or as many as you can do with immaculate form. If/when you are unable to maintain alignment and/or correct body position, stop the exercise and move on to the next.
Repeat each circuit 1-4 times, depending on your fitness level and your ability to continue executing the exercises with precision. Good form and technique always trump intensity and duration!
Aim to do this workout 2-3 times per week for the best results
This workout is appropriate for runners who already have a solid strength base and are capable of doing traditional squats (body-weight only) with good form.
Before beginning, complete a 5-10minute warm-up that includes some basic squats (body-weight only)
Circuit #1
Dorothy Jumps
(Turned-Out Power Squats w/Adduction)
for Lower Body Strength & Power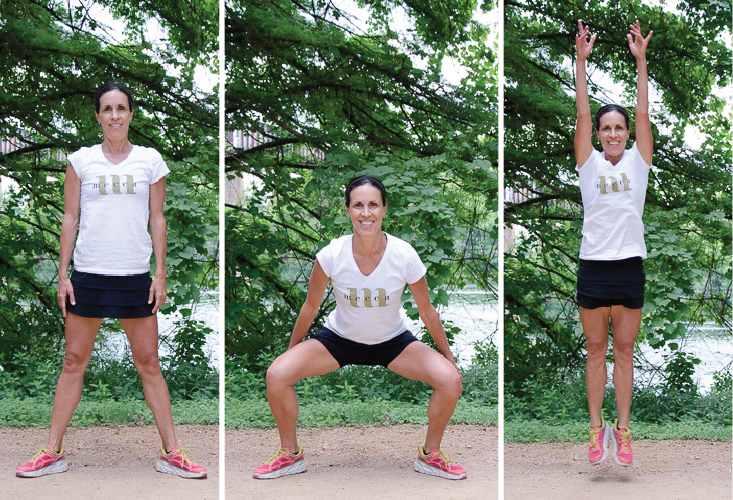 Step by Step:
From a wide, standard squat position, squat and jump up with adduction "clicking" the heels together
Return to your starting position with a "soft" landing.

Good Dog Flow
(Updog/Push-up/Down Dog sequence)
for Upper Body Strength & Flexibility

Step by Step:
Set yourself up for this sequence with a solid plank position, aligning the head, shoulders, ribs and hips.
Then move into UpDog, by lowering the body to the ground (advanced option is hovering, otherwise resting the body on the ground), and then with feet turned over, lift your head, chest, and mid-torso as high as you can using the back extensors.
After returning to the ground (or to the hover), turn the feet back over and do push-up, modifying by lowering the knees to the ground for a 1/2-plank push-up if you are unable to maintain good form in a full-plank push-up.
Finish this sequence with DownDog by piking your body, sending your hips up toward the sky, sinking your heals down into the ground, and pressing your chest through your shoulders toward your thighs.

Wag Your Tail
(Hip Dips in Low Plank)
for Core Strength


Step by Step:
In a low plank, roll the hips side to side, lowering the hips to an inch or two above the ground, while stabilizing the upper body.

Circuit #2

Star Jumps
(Power Squat from "Chair" with Abduction)
for Lower Body Strength & Power


Step by Step:
From a narrow "chair squat," jump up and extend arms and legs out in the shape of a star, landing "softly" in the starting position.


Upside Down Flow
(Tricep-PushUp/Table/L-Sit Sequence)
for Upper Body Strength & Flexibility


Step by Step:
In a seated position, place your feet on the ground about hip width apart, and place your hands behind you on the ground shoulder width apart, fingers pointing toward your heels.
Maintaining a "stacked and connected" body position, bend the elbows, tricep dip fashion, leaning back, hinging at the hip, and taking your body weight into your arms and the heels of your hands.
Then, push from the heels of your hands to straighten the elbows and lift the hips off the ground.
From there, shift some of your body weight from your arms to your legs, and push through the heels of your feet to the table position, using your "backside muscles," the hams, glutes, low back, mid back, back delt, and tricep. Finally, lower the hips back down to a hovering position.
Then, engage the abs and push into the ground with straight arms, to hold the hips in the hovering position and pull them back between the hands into a gymnast's "L-sit."

Sitting Pretty with a Twist
(Seated Vertical Plank Hip-Hinge with Twist)
for Core Strength
Step by Step:
Sit on the ground with knees bent and legs together. Sit tall, stacking head, shoulders, ribs, and hips.
Then, with arms across the chest, hinge from the hip and lean back, careful to go only as far as you can maintaining the stacked and connected spine.
Return to vertical, extend arms over head, twist, and open the arms into a "T", again careful to maintain the stacked and connected vertical plank.
Reach the arms back up overhead as you unwind and return to center.
Twist in opposite directions for each rep.
-- -- --
Improve your running with Allison! Allison's Running Training class meets every Wednesday at 8:30am, where together we complete a short running loop around the hike & bike trail incorporating various drills and cardio-cross-training exercises with a focus on developing overall endurance, good running form, and improving speed.

Allison also teaches 3 spin classes each week at Mecca and is accepting personal training clients.
Click here to view the class schedule